5731 Brook Circle
| | | |
| --- | --- | --- |
| Mountain Green, UT 84050 | | | MLS #1848586 |
5

Bedrooms

+

3.5

Baths

|

$848,770

|

3,535 Sq Ft
Welcome to
5731 Brook Circle!
Get ready to have it all. This gorgeous and extremely well-maintained Mountain Green home offers a quality you are unlikely to see anywhere else! Starting with this grand entryway.
This room, at the front of the home, is the perfect spot for entertainment, an office, a gathering space, or whatever your heart desires.
Can you picture yourself relaxing at the end of a long day in this gorgeous and grand living room?
And this gorgeously crafted fireplace is sure to keep you warm all winter long!
For some, they would agree that the kitchen is the "heart of the home". Can you imagine a lifetime of cooking, baking, and gathering around this large kitchen island and spacious dining area?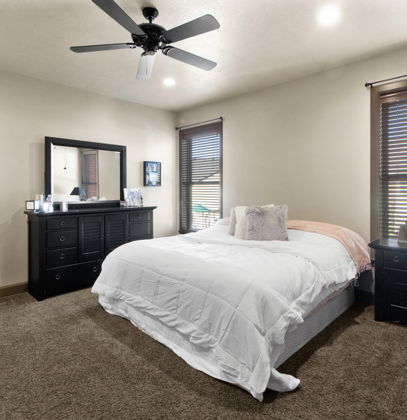 A large master bedroom with an attached master bathroom to make getting ready in the morning a breeze!
And imagine getting ready in this beautifully updated bathroom! Everything you will need, will have a place in this bathroom.
Need to brush your teeth? The sink with great counter-space will be just right. Need to apply makeup or do your hair? The vanity is perfect! Need to take a relaxing shower? Or, do you need somewhere to store all of your necessities? This bathroom has a designated spot for everything all while maintaining amazing storage!
And not to mention, this home is definitely plentiful when it comes to the amount of bedrooms it has.
Enjoy movie nights with friends or family in this amazing basement! There is plenty of room to fit everyone!
This home features endless possibilities! Imagine summer nights spent eating outdoors on this magnificent backyard patio. Or, enjoy fun backyard barbecues with friends or family, and even peaceful winter nights surrounded by amazing views.
Lorem ipsum dolor sit amet, consectetur adipiscing elit, sed do eiusmod tempor incididunt ut labore et dolore magna aliqua. Ut enim ad minim veniam, quis nostrud exercitation ullamco
Principal Broker, ABR®, ASP, CDPE, CHMS, CNE, CRS, DRS™, GRI, SRS
Sold By An Angel Real Estate®
644 Eagle Pass , North Salt Lake, UT 84054